Music Classes for Preschoolers "Imagine That"
Every morning he gets up and asks if today is Kindermusik Day.
– Michelle W
Meet Sarah.
Her 4 year old brain is an amazing miracle.  Her teacher says "Wow, Sarah, what a great idea! I'm going to play my sticks the same way as you". After class the teacher confides to you, "She showed me an idea today I have never seen before".
Welcome to Imagine That!
The creativity of preschoolers is boundless, and every week we see something we have never seen before. Don't miss this stage by rushing too quickly to activities that require them to do everything the teacher's way!
Kindermusik "Imagine That" will harness that creativity and build a unique environment in which our musical activities will unfold.
Your children will feel so important, because their ideas matter. Their curiosity will be encouraged as they discover dozens of musical ways to make a rainstorm sound. They won't even notice how much they're learning.  Your Kindermusik Educator will help set the stage for future musical success with the most important fundamentals.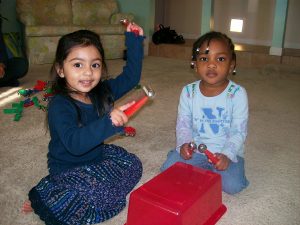 Its roots are traditional, but it's far more! 
We start with a foundation built on elements of Orff, Kodaly and Suzuki music education. We add the latest research into preschool brain development and the best ways to nourish creativity. We top it off with a passionate educator who lives out the mantra that this age group learns best when playfully engaged.
Building independence: Children come in by themselves for the first 30 minutes – families join in for the last 10-15 minutes to see a little of what we've done and to receive the "Homework" assignment.   We have a variety of strategies to ease your child in, if separation anxiety is a concern.
3 to 5 years Imagine That – on their own
15 lessons. Parents join each class for sharing time. Join us after the start date with tuition pro-rated.
3 to 5 years Imagine That – on their own
15 lessons. Parents join each class for sharing time. Join us after the start date with tuition pro-rated.
Benefits for Preschoolers
Preschoolers are actively expanding their base of knowledge through trial and error, talking, moving, and yes, even being a little silly at times!  There's no limit as to how far a little imagination, a lot of music, the joy of being with friends, and some Sharing Time with family can take these eager learners who are also on their way to becoming promising musicians in their own right.
Language Development
The preschooler has a lot to say, and he loves to tell stories and share information.  Kindermusik gives your preschooler an outlet for self-expression by capitalizing on his capacity for imaginary play, his ability to follow 3-step directions, and his interest in making up stories and rhymes.
Vocal Development
Now that the speaking voice is more fully developed, we'll turn our attention to finding the song that's in every heart.  The singing we do in class will expand the children's song repertoire, help them begin to match pitch, and teach them to use their voices expressively.
Cognitive Development
These concrete thinkers are also curious learners who have an increasing ability to think about ideas and things that are not immediately visible.  Our Kindermusik activities give lots of opportunities for stretching those cognitive abilities through labeling, repetition, sequencing, and participating in pretend play.
Gross Motor Skills
Skills like hopping, skipping, running, and walking are refined as we add the challenge of moving to a musical cue.  Kindermusik helps your active preschooler become more expressive in his movement, giving her lots of opportunities to benefit from the strong connection between moving and learning.
Fine Motor Skills
Drawing simple objects on paper or building a tower with blocks show that your child is ready to take on the challenge of using a mallet and playing instruments with greater variety and skill.  Kindermusik provides a critical bridge of musical learning and experience.
Social Emotional Development
Every child is a contributor in our Kindermusik classes!  Respect for each child and a knowledge of age-appropriate expectations means that your child's teacher provides a secure environment for each child to explore, learn, grow, and contribute.
Musical Development
Kindermusik taps into your child's natural musicianship and developing musical skills.  We'll help your child find and develop his singing voice and teach him a beginning vocabulary of music terms.
"We wanted an activity that would engage our daughter and help her with her interactions with other people. We found Kindermusik and it was so much more!"
– Nikki R